THE PERFORMER  |  Farah Zeynep Abdullah   
THE SHOW  |  Masumlar Apartmanı (TRT1)
THE EPISODE  |  Episode 25 (Mar. 9, 2021)
Being introduced to a new, and particularly scary side, of someone you know and love is trying for anyone. In the latest episode of TRT1's Masumlar Apartmanı, Inci was introduced to her new reality, having followed her hubby Han to his trash utopia. Stunned at first, she bolted off as quickly as she could after confronting him but returned soon after, wanting to understand things from his point of view, the understanding trait of hers we've seen from the show's onset. Still in tears and clearly shock up, she questioned a vulnerable Han, "What's all this to you? How do these calm you down?" With Han walking her through his obsession, Inci had a decision to make but first, she needed a place to rest her head for the night, so she set off to Esra's house. Oftentimes, mental illnesses result in distress and disruption within families, and more often than not, society misses the mark on that side of the coin. Farah Zeynep Abdullah's portrayal of Inci's inner struggle upon discovering Han's secret was as raw and authentic as it needed to be, to put things into perspective. Is loving someone enough reason to jeopardize your own well-being?
The true star of the episode was Inci's alter-ego that hunted Han's subconscious. Donned in all-black with the perfect red lipstick to match, Farah Zeynep Abdullah showcased her versatility as an actor, transforming into a character polar opposite from what we've seen of Inci thus far in Masumlar Apartmanı. This version of Inci in Han's head was a bit more bubbly but also a bit mean, as she haunted Han with the terrifying facts she had just learned about him.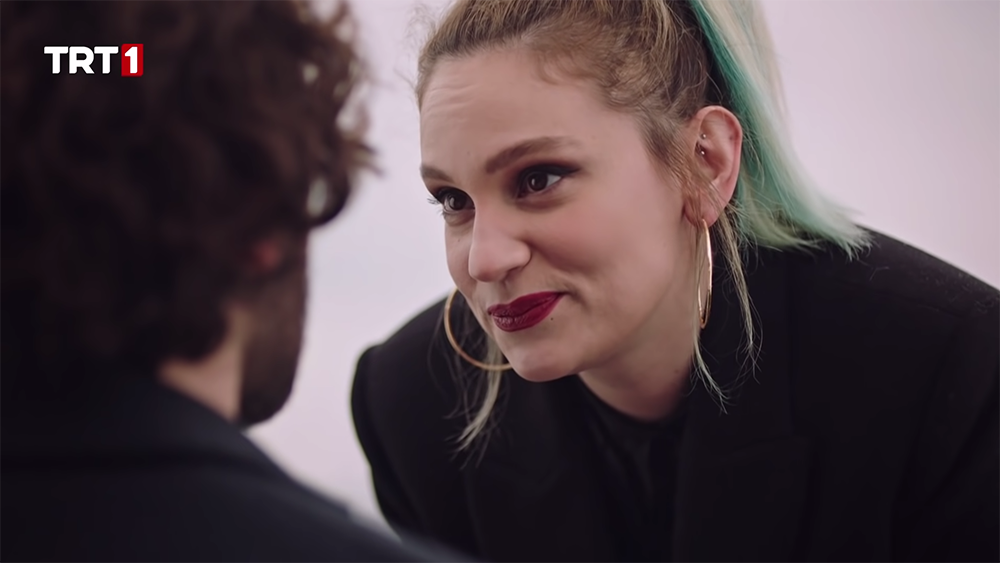 In reality, however, Inci wanted something else from Han. She wanted him to get help or risk losing her forever, and that's on an ultimatum. She was willing to make things work but Han first needs to come to terms with not only having a problem, but also needing help to overcome it. She was peaceful and quiet in her approach, an indication that she truly cared about him, but even with that, Han's fears of being cast out bypassed everything Inci had said to him at that moment. But he eventually came around, and at the worst moment possible, as Safiye had overheard his conversation with Inci and assumed the psychiatrist in question was for her, and not Han. Safiye of course went ballistic, refusing to hear a word of what they had to say, and instead, making a mockery of Inci's "alcoholic" father. Refusing to take those hurtful words sitting down, Inci rebottled, telling Safiye that she is the worst thing to happen to the family since their mother and uh-oh. Bet you can guess what came next.
Masumlar Apartmanı continues to be one of this season's best dramas and that is in part to each actor stunning in their own way in every episode. In Episode 25, Farah Zeynep Abdullah simply dazzled in every sequence she was featured in, leaving a lasting impression worthy of a thousand praises.