Unprecedented. That's the first word that comes to mind. Last night, the second episode of Sen Çal Kapımı aired on FOX and albeit it being the summer season, albeit the episode being pushed to a much later time due to a presidential address, the episode still became the most-watched in EVERY CATEGORY OF THE NIGHT. 

In the latest TV ratings, FOX's Sen Çal Kapımı delivered an 8.24 demo rating in the 'TOTAL' category, a salient increase of 101.7 percent from its premiere. Elsewhere, it saw 48.29 percent increase in the 'AB' category with a rating of 7.40. In the ABC+1 category, the episode also increased drastically, ranking amassing a rating of 8.40, a 70.3% increase from the previous week.
Additionally, Sen Çal Kapımı also peaked at #1 on the Twitter trending topics in Turkey, signaling to its impact even on social media!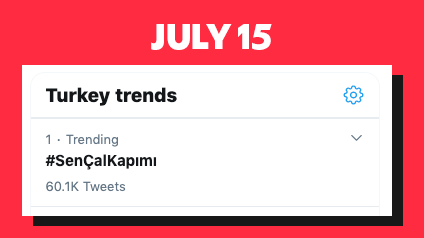 Sen Çal Kapımı follows the story of Eda (Hande Erçel), who has her dreams of studying abroad are cut short after a scholarship she was highly dependent on is abruptly discontinued by an arrogant and self-centered man named Serkan Bolat (Kerem Bürsin). Their paths soon cross and what was just supposed to be a kiss to get back at her ex turns into a pretend 2-month engagement, at least they think so.  

The next episode of Sen Çal Kapımı airs Wednesday, July 22 on FOX TV in Turkey!