by Paola Cesarini and Maryam Rangwala  
"50 MetreKare" ("50 Square Meters" or "50m2") features a brilliant Engin Öztürk as a tormented hitman, who takes on a dead journalist's identity to escape death, only to find himself struggling to save the innocent inhabitants of a popular Istanbul mahalle from displacement. Replete with familiar tropes from the "dark" comedy genre, "50m2" strikes a well-calibrated balance between action, humor, and drama, thanks to a witty script and a star-studded cast. To put it in a nutshell, the latest Netflix Turkish Original feels like "Çukur" meets "The Sopranos" against a "Çati Kati Aşk-like" background.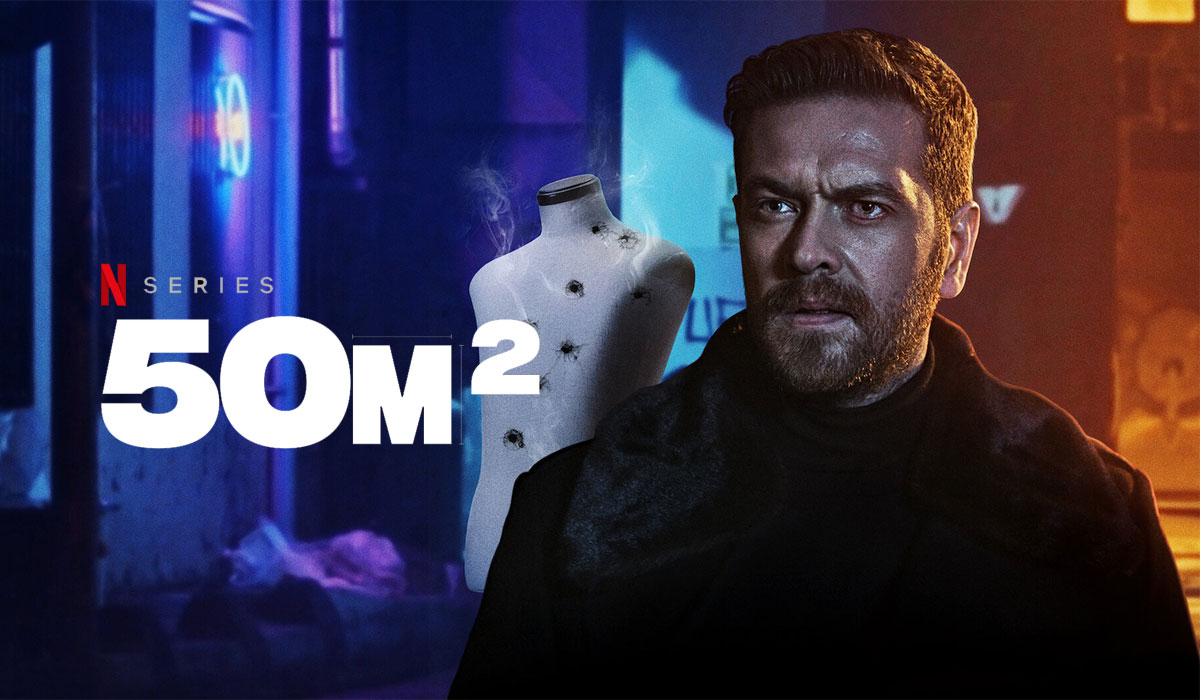 "Dark comedy" refers to a comedic style that makes fun out of ordinarily taboo subjects. It 'takes humanity's worst impulses and throws a pie right in their faces.' Usually, the goal of productions in this genre is to amuse by presenting something shocking and unexpected. Abundant with humor, dark comedies also seek to provoke serious thought and discussion about uncomfortable subject matters such as murder, violence, death, corruption, sexuality, poverty, disease, famine, racial or sexual stereotypes, war, terrorism, etc. Some of our favorite examples of cinematic dark comedies include: "Dr. Strangelove," "Fargo," "Pulp Fiction," "Shameless," and "Parasite," the Korean dark comedy thriller that won the Best Picture award at the 2019 Oscars.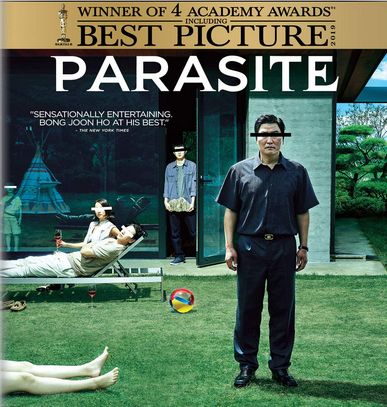 Written and directed by the talented Burak Asak (also with Selcük Aydemir,) and produced by Faruk Özerten, "50m2" fits squarely within the dark comedy genre. It starts with a handsome, cool, stylish, and self-deprecating thug named "Gölge" (which literally translates into "Shadow") ominously hunting an allegedly poor pilaf vendor across a dilapidated Istanbul slum. Gölge displays an interesting sense of humor for a professional assassin, as evidenced by his predilection for vegetable juice and whiskey, preferably mixed into a suspicious concoction. Rescued as an orphaned street child by shady, 1960s-looking businessman Servet (effectively interpreted by Kürsat Alniaçik,) he grew up to become the latter's #1 hitman. However, the mystery of his identity never ceased to haunt him. Over Servet's objections, Gölge is fully determined to find out who he really is. This provokes an irreparable rift between the two, which drives Gölge away from his padrino, and Servet into psychological counseling.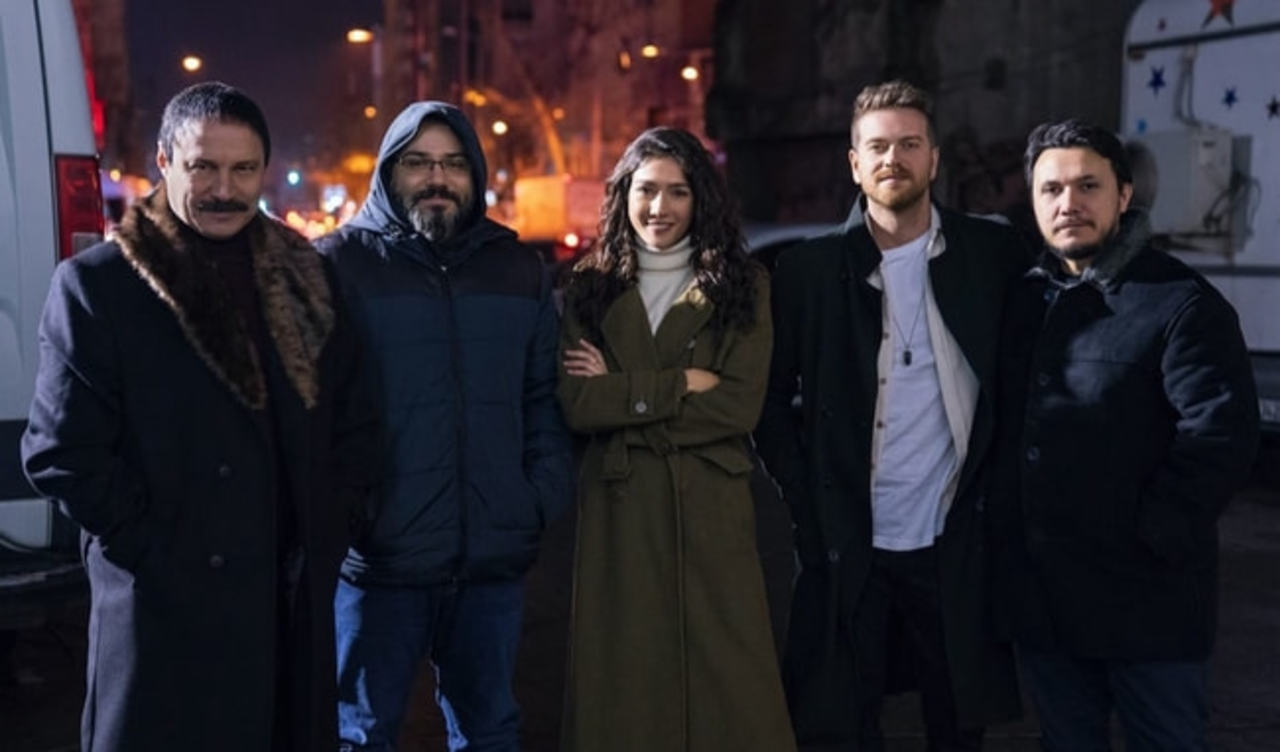 We meet Gölge just as his past and present are about to collide. When investigative journalist Adem shows him proof that Servet knew his real father, Gölge realizes that his mentor has intentionally hidden the truth about his family and identity all along. An inevitable confrontation ensues and Gölge is severely wounded. He thus decides to take refuge in the 50m2 tailor shop of Adem's deceased father (from which the series' title derives,) located in the popular but close-knit neighborhood of Güzelce (which literally translates as "nice.") Believing him to be tailor Adıl's son, Muhtar – the elected head or "pillar" of the neighborhood, interpreted by the always amazing Cengiz Bozkurt -- comes to Gölge's rescue and brings him home, where he meets his daughter Dilara (Aybüke Pusat.) She is beautiful, smart, and the proud owner of a local bakery. However, she is immediately suspicious of the newcomer, especially after he declares his aversion to gluten.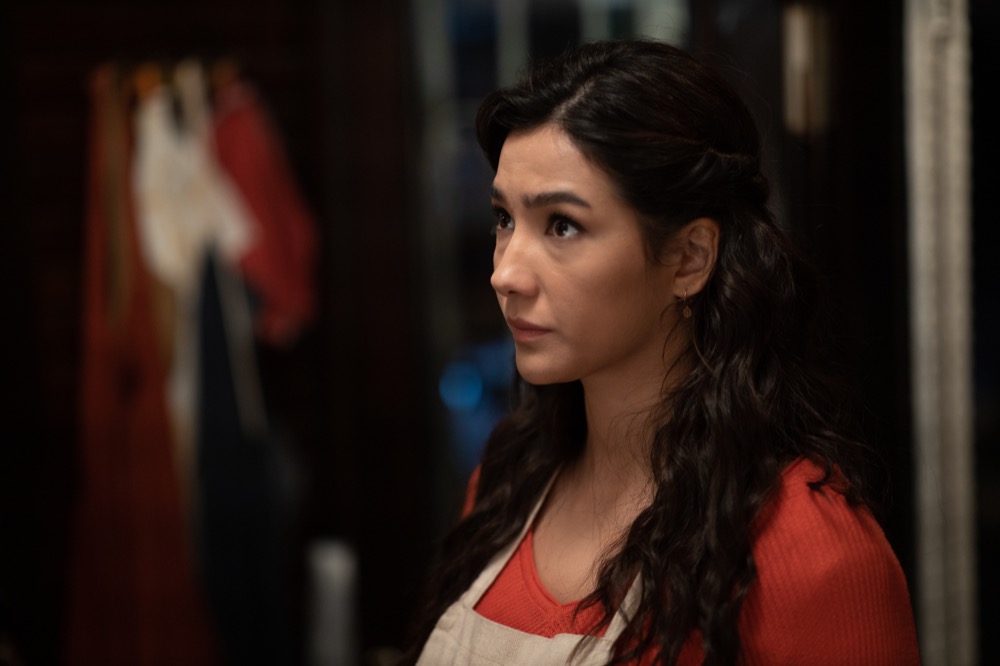 Throughout the series, Gölge is hunted by nightmares of his childhood, where he sees himself holding a knife in his bloody little hands while standing over the corpse of his parents. Therein lies the main mystery of the series. Despite "50m2's" relatively light tone, at the center of Gölge's struggle is a broken childhood, a lost family, and his desperate search for the truth. This desire to recuperate his identity effectively grounds the story in a very relatable and universally appealing narrative.  
While seeking to discover who he truly is, Gölge's also embarks on a transformational journey triggered by his forced relocation from Istanbul's bustling center to the suburb of Güzelce, where the change of environment prompts him critically to reassess his past and recall lost memories from his childhood. In this fashion, "50m2" cleverly juxtaposes the opulent world of organized crime to the simple life of a popular mahalle, which – as in other Turkish series like "Çati Kati Aşk" and "Erkenci Küş"— is represented as an almost fairy-tale, self-contained space where community, solidarity, and comedy abound, along with an abundant supply of gossip, busybodies and personal dramas. From this point of view, "50m2" is quite reminiscent of the acclaimed Canadian sit-com about a clueless, obnoxious, and formerly rich family, who falls on hard times and takes up residence in a motel in the rural, series' titular town of "Schitt's Creek." A town they happen to own due to a long-ago gift, which was originally meant as a joke.  
| | |
| --- | --- |
| | |
The series also compares the fates of Gölge and Yakup (interpreted by the talented Yiğit Kirazcı.) Both street children in their early years, the former was adopted by an evil arm trafficker and initiated to a life of crime, while the latter was taken in by Muhtar and grew up as a fundamentally good person. It follows, then, that a major theme of the series is redemption. Through his acquaintance with the Güzelce community, and Muhtar's family, in particular, Gölge realizes that his values might actually be quite different than those, which Servet brought him up with. His past full of unspeakable acts of murder and mayhem thus begins heavily to weigh upon him. Slowly but surely, he starts to seek a pathway back to the goodness and warmth that his recovered memory associates with his mother.  
"Yes, this place is a dump and I am not anyone's hero… [but] Muhtar opened his home to me. He tucked me in. And I slept without nightmares after a very long time."  [Gölge in "50m2"]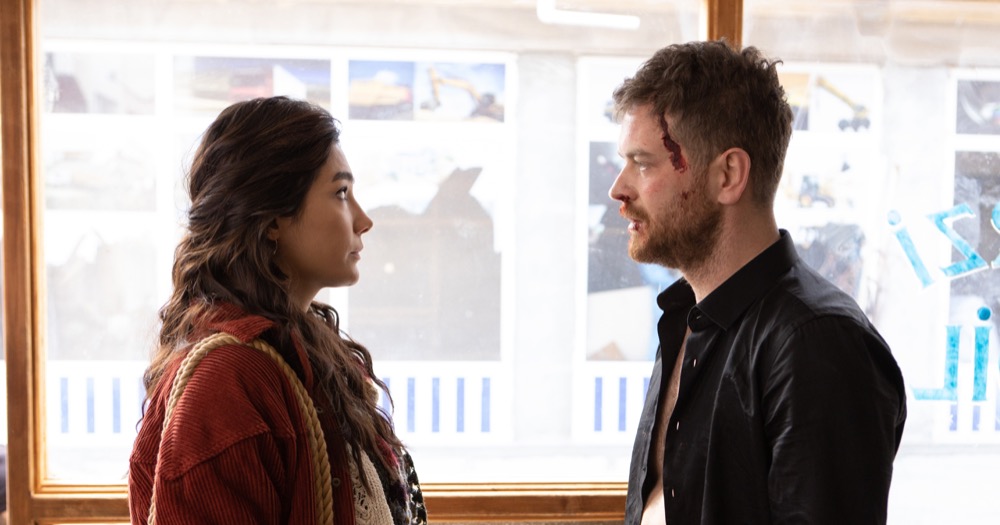 Gölge comes to understand that, had he grown up with the right kind of influence, he could be a different person. For example, he could be a good, family-loving citizen, who is eager to live peacefully in a simple but close-knit environment like Güzelce and help his fellow man whenever he can. Muhtar – who is the virtual opposite of Servet – thus becomes his new role model. However, above all else, it is his increasing infatuation with Dilara that motivates him to embark on the path to redemption. Thus, almost unconsciously, Gölge/Adem becomes an anti-hero to a long list of people in the mahalle. He rescues a boy from certain death on an illegal immigration trip; saves Muhtar's family home; teaches Kerim (Bartu Mutlu) how to deal with school bullies; shows to Civan (Özgür Emre Yildirim) how confidently to carry himself; defends the neighborhood from drug dealers and predatory developers, and so on.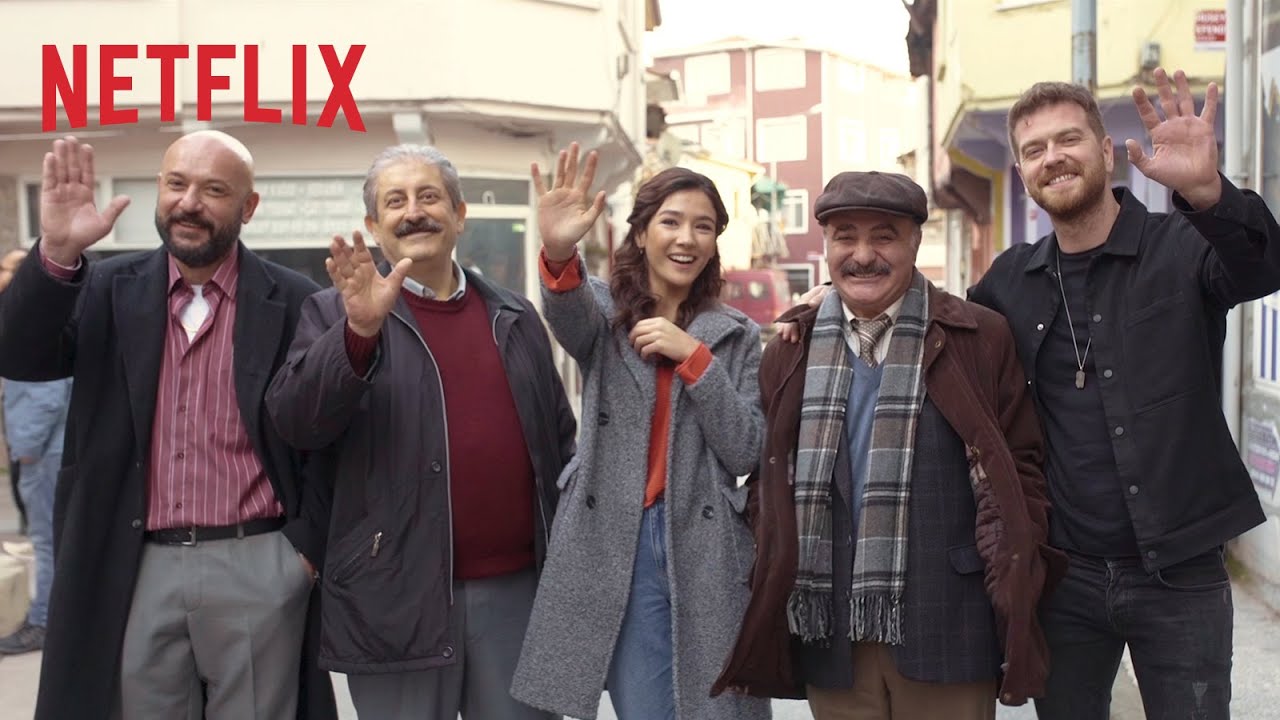 Engin Öztürk largely carries the show on his shoulders. An experienced actor, he is mostly known for dramatic roles, including Selim in "Fatmagül'ün Sucu Ne?"; Sultan Selim II in "Muhtesem Yüzyil"; Yusuf in "Hatirla Gönül"; Levent in "The Protector"; and most recently as charming Barış Bey in "Doğduğun Ev Kaderindir." However, in "50m2" Engin shows remarkable comedic talent. His performance is always understated, but nevertheless impactful. As Gölge, he manages to remain calm and self-confident throughout a veritable rollercoaster of events and emotions, showing notable range as an actor. We get the feeling that his interpretation in "50m2" will represent a game-changer careerwise, above and beyond the fact that he performs the lead role in a global Netflix Original production.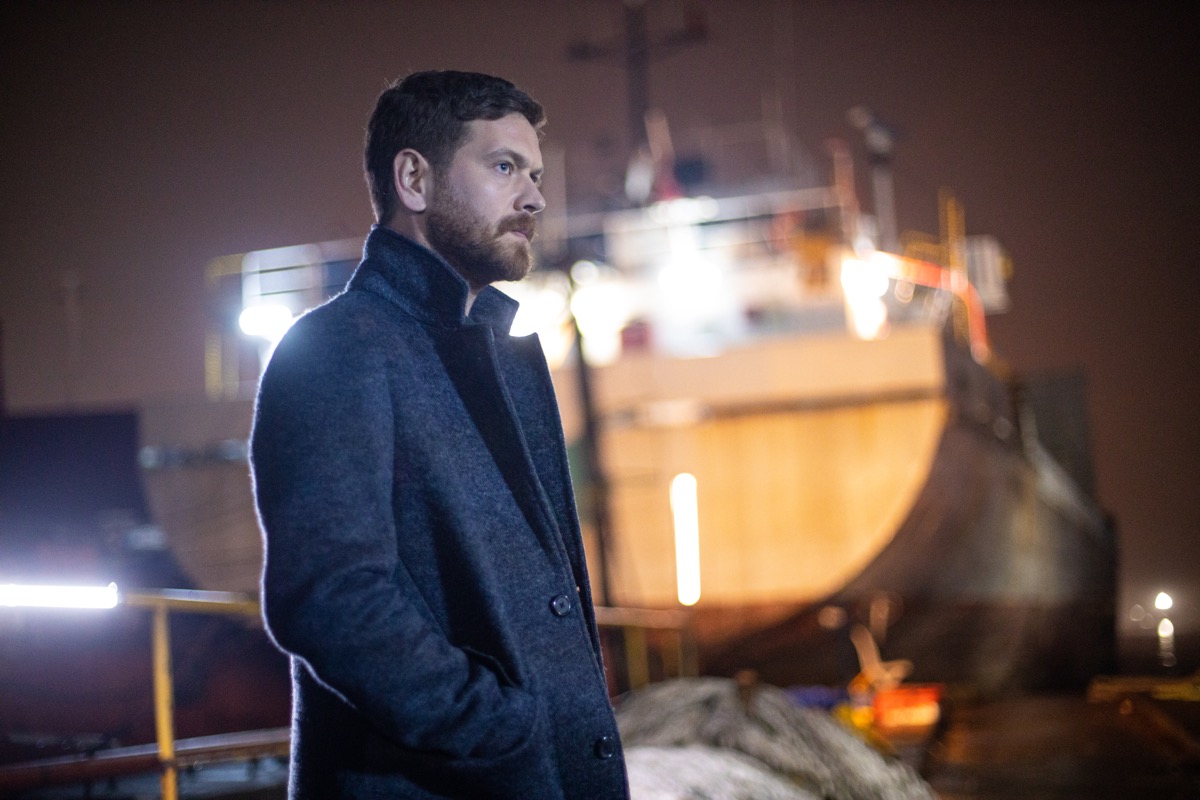 "50m2" brings together Engin Öztürk and Aybüke Pusat (Selin from "Her Yerde Sen") as romantic leads. While on paper, they look like an unlikely couple, there is plenty of chemistry between the two. Their banter is witty, passionate, and intense but also sincere and heartwarming. During the first season of the series, their romance remains at the budding stage. Dilara is clever enough to realize that Gölge/Adem is hiding a big secret. Indeed, the latter admits as much to her, without however fully revealing his past. As they grow closer, and their physical attraction progressively sizzles, the former hitman becomes increasingly restrained. This is a relationship he does not wish to mess up. Still far from reaching an apogee, the further development of their love story is the one thing viewers will be most looking forward to in anticipation of season two.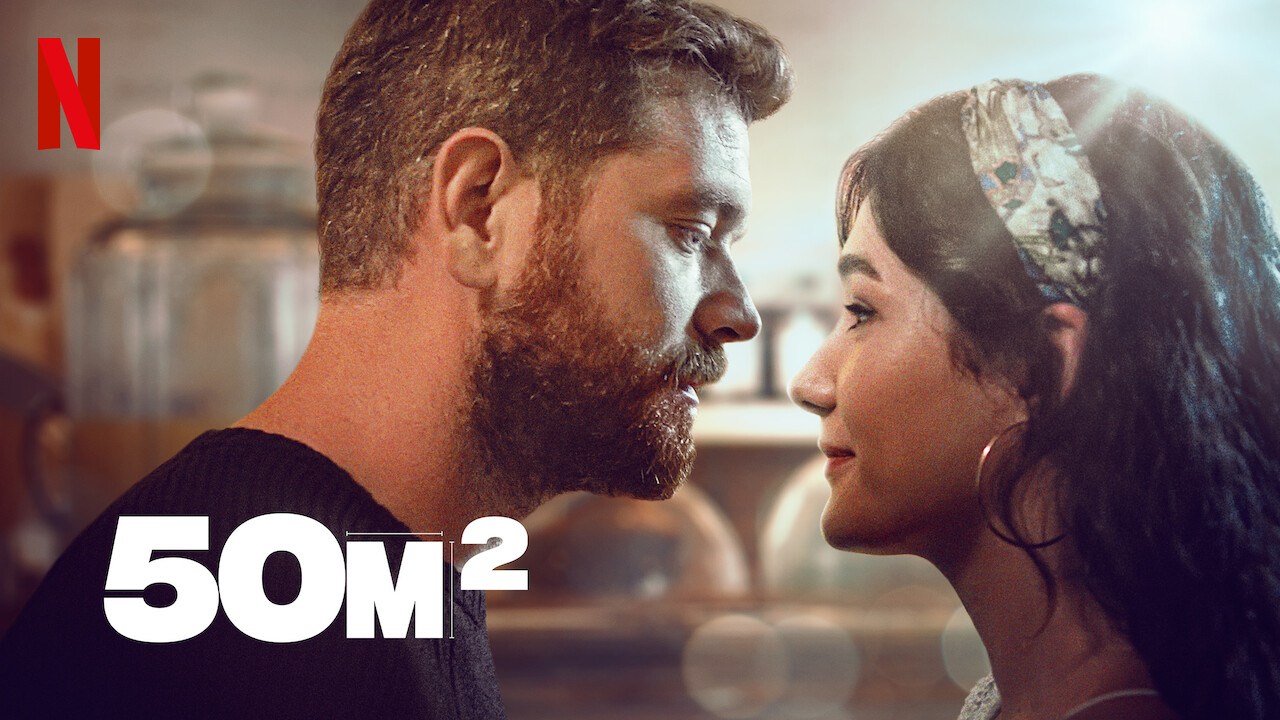 Beyond the dark subject matter explored, "50m2" is also genuinely funny. It could hardly be otherwise since the series greatly abounds with outstanding comedic talent. The standout scenes in this regard are those where Gölge mixes whiskey into his otherwise healthy green smoothie, and when he effortlessly disarms the do-good journalist of his dainty fruit knife. The sequences at Muhtar's family table, and in the grandmother's bedroom during episode two had us in stitches. Perhaps the best examples of "50m2's" dark humor are the surrealist chats, which Gölge/Adem has with Barber Hasan (Vural Ceylan) and with the local Imam (Murat Kiliç.) As if this were not enough, Servet's absurd therapy sessions positively bring to mind those of Tony Soprano. Finally, Civan's marriage proposal and the scene in Mesut's (Tolga Tekin) office, where everyone accidentally meets to steal the debtor notes and ends up involuntary witnessing a murder, are hilarious, to say the least.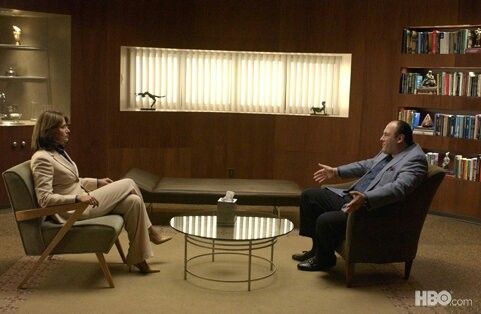 A few gentle criticisms of this Netflix production include the visual overuse of alcohol, the slower pace of the narrative after episode three, and a weak audio message plot device in the context of Gölge and Servet's evolving relationship. The most notable issue, however, is that the subtitles consistently refer to Gölge not by his name, but as "Shadow". It is quite disappointing that the giant streaming platform, for which audiences pay a premium, cannot provide captions of the highest quality.  
Despite these shortcomings, viewers will enjoy that Netflix has managed to create a series that retains the quality and je ne sais quoi of the best Turkish dizi productions, with heartwarming moments, a painful confrontation with a troubled past, a dazzling romance, and a quest for the truth. Moreover, with little in terms of graphic scenes or vulgarity (which can be off-putting to some,) "50m2" is ultimately a feel-good show where viewers have the opportunity to linger in an environment where two wildly different worlds collide to surprising reciprocal benefit. 
Season One of "50m2," which consists of 8 episodes of 45-minute each, is currently airing on Netflix in the original Turkish language version with English subtitles. It is also available dubbed in various languages.
---
@ Article Copyright by Dizilah (Paola Cesarini & Maryam Rangwala)
All sources for this article are included as hyperlinks.
All pictures and video clips belong to their original owners, where applicable. No copyright infringement intended.