Remakes are becoming a staple in the dizi industry, and in the last couple of years alone, the bar has undoubtedly been raised even higher.
Joining the ever-growing repertoire of remakes is Sadakatsiz (Unfaithful), which premiered Wednesday, October 7, on Kanal D. 
A compelling adaptation, the series adds the impeccable Turkish touch to the melodrama that soon became a British phenomenon, Doctor Foster. 
Like the original, Sadakatsiz tells the story of a seemingly picture-perfect marriage gone awry. Cansu Dere plays Asya, a well-established medical doctor and professor, running a successful practice in Istanbul. As an outsider looking in, Aysa seems to have it all – the looks, a handsome and charismatic husband, an adorable kid, and an incredibly successful career. On top of her game, she is the envy of many, but as we soon come to find out, all that glitters is not gold.
The adaptation beats to the same dramatic drum as the original, wasting no time in getting down to the nitty-gritty of Aysa's husband's (Caner Cindoruk) infidelity. In the first scene, we're shown the now-iconic explosive dinner scene from the original where Asya confronts her husband and his mistress in the presence of his mistress' parents, who also happen to be their very good family friends. 
Cansu Dere is tremendous as Asya, a usually put-together socialite whose life begins to unravel around her when she discovers the family she has invested so much into through the years has seemingly been cracking at the seams. 
Nothing is ever what it seems, and as we take a trip down memory lane, Asya comes to the same realization. 
Up until a few weeks ago, Asya had donned an especially thick pair of rose-colored glasses when it came to her relationship with her husband Volkan. "A perfect man, a perfect father, I am the luckiest person in the world. What more could I want in this life?" she thought.
Late nights and spur-of-the-moment trips had become a regular for Volkan, and with a loving and caring wife like Aysa, who trusted him wholeheartedly, a little bit of romance was enough to make up for lost time. The signs were there, like the strawberry-based lip balm that fell off Volkan's tux after one of those his trips, but they also had their vows, the till death do us part vows. 
As we anxiously crawled our way to the major discovery, the director (Neslihan Yeşilyurt) intently focused on Asya's accomplishments as a working mom. Even with the slew of accolades she had accumulated throughout her career, an indication that she works pretty hard, Aysa still managed to keep her family life blooming like the flowers in her garden. But like the flowers withered through the seasons, so was her marriage, behind closed doors.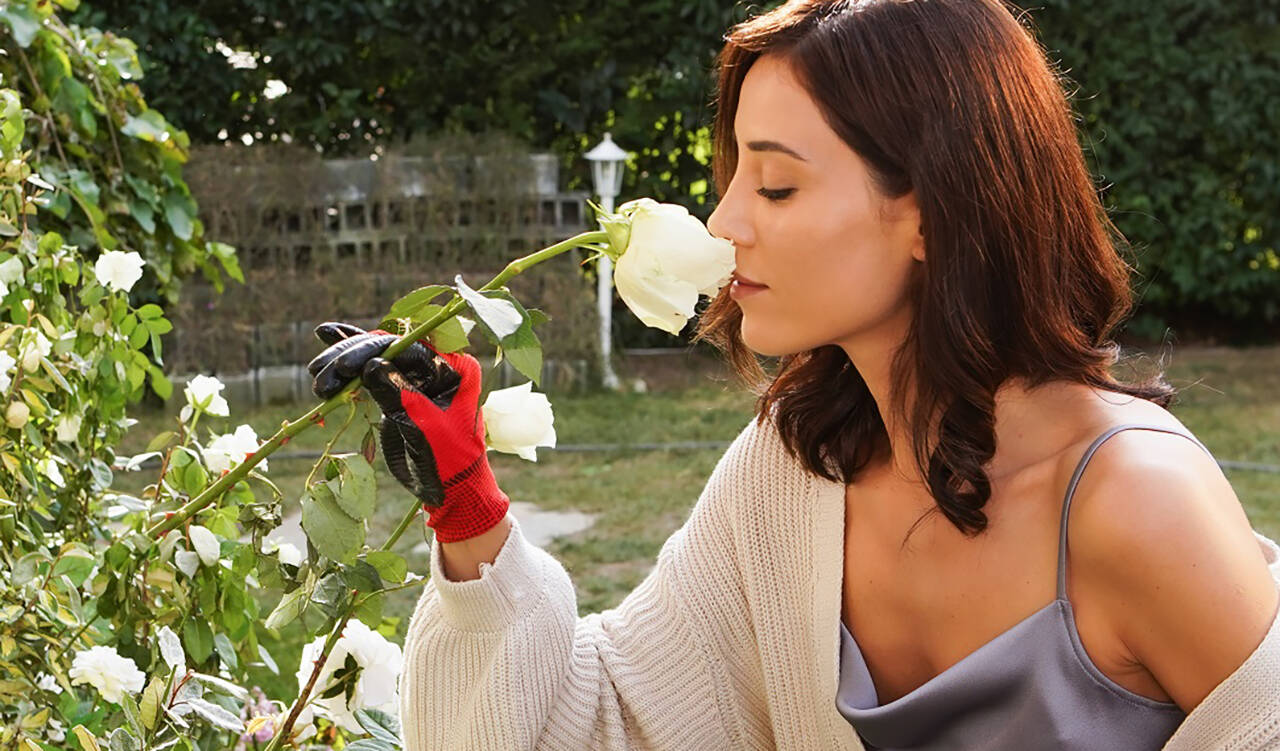 The plot soon begins to unravel when Volkan, in trying to keep up appearances as the perfect husband, hands Asya a navy blue scarf of his, unbeknownst to him it carried remnants – a strand of blonde hair – from the previous night spent in the bosom of his lover. 
Steering Asya down an obsessive path, she soon becomes equipped with overblown paranoia as she begins to revisit previous wrongdoings by her husband, attempting to reevaluate what was true and what was a self-serving lie.
Sadakatsiz starts off as somewhat of a slow burn as in true Turkish remake fashion, the goal is to have the episode count supersede that of the original series, which had just ten across two seasons.
Nonetheless, Dere is mesmerizingly deft as a woman scorned, reeling viewers through the emotional effects of an extramarital relationship. In the first hour of the episode, despite piecing together a couple of clues about her husband's affair, Asya never quite loses her cool, and in her collected stance, we sit back anxiously awaiting the moment when she will eventually pop. 
The director and camera crew did a brilliant job in amplifying little but significant details from start to finish. The symbolistic use of the strand of blonde hair was engrossing, particularly from Asya's perspective. Once that piece of evidence was discovered, the character became intrigued by every woman with blonde, ending up in a trance-like state whenever she came across one. Her husband's mistress could be pretty much anyone, she thought – from a patient who dropped by her practice, to the mother of her son's best friend.
Of the cheated upon, time became instrumental. Gone were the days of attributing Volkan's absences to his work life. With the seeds of doubt sowed cleverly and neatly into the story, Aysa became attentive, and with that attention to detail came a noticeable sense of resentment. Cansu Dere did a masterful job in using her body language to convey the feelings of her character. The nervous nail-biting, the subconscious need to keep scratching to her neck, as well as the all-of-a-sudden obsession with minor details, created a believable sense of a woman on the verge of an emotional tailspin. And in the moment Asya says out loud, for the first time, that her husband has been cheating on her, Dere's performance is so brilliantly set-up, the viewer has no choice but to root for her character in the interim.
| | |
| --- | --- |
| | |
Likewise, Caner Cindoruk effectively nailed the recklessness of his character Volkan. It is no surprise Asya missed the signs that were there all along. While we know he was unfaithful; the flashbacks scenes painted a man with an intriguingly contrasted personality and an even better cautionary tale. Having mastered the act of fooling her for so many years, Volkan became accustomed to his one deceit and, in turn, missed the change in Asya's behavior when she was hot on his trail.
Perhaps the only thing that fell a little short in the first episode were the supporting characters. With the slow-paced plot leading up to the bomba reveal, most of them all seemed to lack something, in turn, adding nothing interesting or significant to the overall plot. While they did a fine job of complementing the leads, many of their dialogues fell flat in delivery. For example, in contrast to Jodie Comer, who played the mistress in the original British series, Melis Sezen, who plays Derin, didn't pack enough punch to deliver the mistress' role in this remake. 
With that said, by the end of the episode, a foundation was cleverly set to add a bit more depth to the supporting characters, as we briefly come to find out, they were all in on the big "secret" of her husband's indiscretions. 
Where does the story go from here, now that Asya knows her suspicions were warranted and pieces are falling perfectly into place? What will become of the woman that was once sought as the face of perfect marriages? You know what they say, Hell Hath No Fury...
A brand new episode of Sadakatsiz airs Wednesday, October 14, on Kanal D!