Star TV premiered its highly-anticipated romantic comedy, İyi Günde Kötü Günde, on September 12!
İyi Günde Kötü Günde (loosely translated as "In Good Times and Bad Times") follows the story of Leyla (Elçin Sangu), who has spent the last five years honing her skills as a wedding planner, after being left at the wedding table on the day of her own wedding.
The lighthearted series has all the elements of the typical summer romantic comedy, but with the year 2020 has been, it is no surprise it made it to the autumn TV slate. 
The Gist:
Five years ago, Sarp and Leyla were happy, in love, and about to start their lives together. Then came that "black" day, the day that was meant to be the happiest day of their lives, the groom, Sarp (Ozan Dolunay), was nowhere to be found. Sarp, whom Leyla had thought to be her very own Prince Charming had disappeared –– without a trace.
The hope and the hurt have lived inside of Leyla ever since but as the years have gone by, she's found the strength to get on with her life, making sure that the weddings she plans for other, ends on a happier note than hers did. 
All of the years she has dedicated herself to her career, working tirelessly day and night, doesn't go unnoticed as Leyla is soon offered a promotion at the agency she works at. The stakes of earning the promotion, however, are quite high: She has to plan her boss's daughter's wedding, the grandest feast of the season. 
Having planned so many weddings successfully in the last couple of years, Leyla believed the task at hand was an easy one and bagging the promotion would be a cakewalk. Little did she know...
We're soon introduced to Leyla's full-of-life parents, Halil (Hakan Salınmış) and Meral (Derya Alabora), who have been the source of her strength ever since the "black" day. Leyla's dad, Halil, is still very much enraged about what went down that day, even more so than Leyla. As many parents can confirm, "the hardest part of being a parent is watching your child go through something really tough and not being able to fix it for them."
Leyla's mother, on the other hand, has long closed the Sarp chapter in their lives. She's moved on from the festivities of the "black" day and she's on a mission to make sure Leyla moves on too. What better way to do so that to get her daughter married off – ASAP. Sure, Meral has good intentions, but the mission ahead of her won't be an easy one, considering Leyla, who is still very much heartbroken, never wants to get married –– like, ever.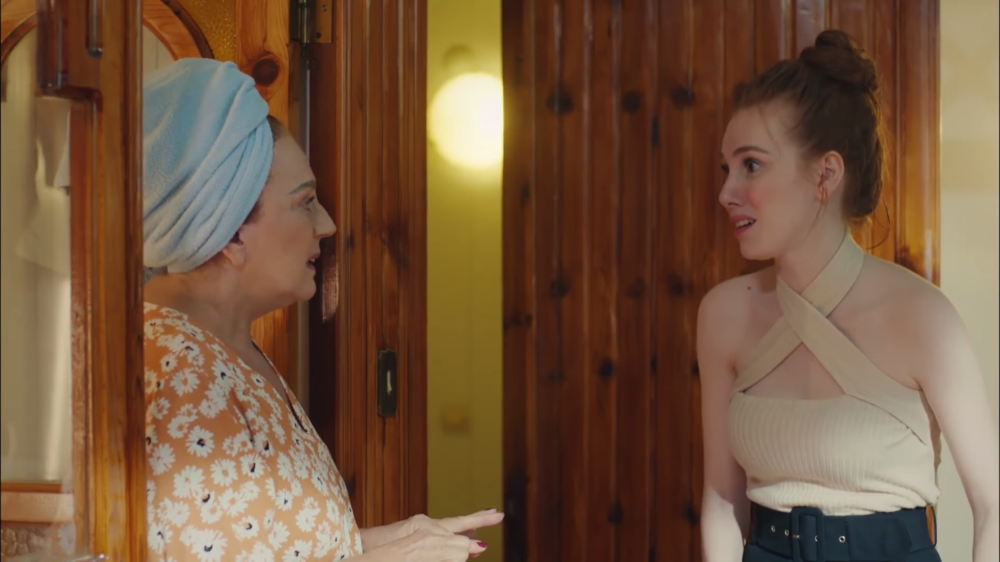 Speaking of heartbreaks, guess who is back in town –– for good? If you guessed Sarp, you guessed right. After his little disappearing act five years ago, Sarp returns to Istanbul to head his family hotel business. Oh, and to propose to his new girlfriend, Melisa (Yasemin Allen).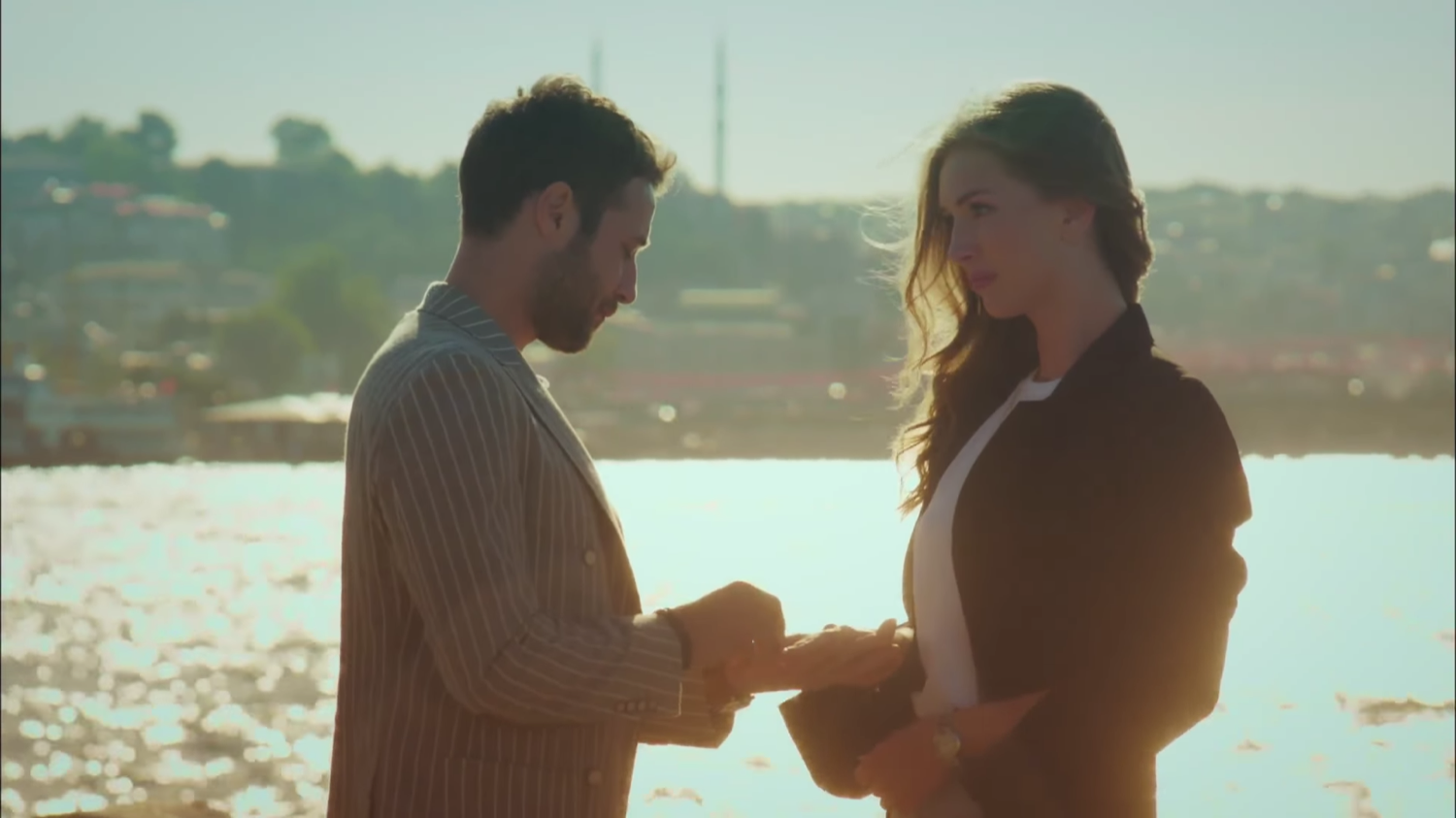 Looking dapper in a properly-fitted tuxedo, Sarp makes his way through the hallways of his new workplace, putting his many years of customer service training to work. Done servicing the customers of the ground floor, he makes his way to his room in the "El Mano Otel," where a bouquet of lovely flowers from Melisa awaits him. Since he has just landed, his belongings are still in their boxes, with only obviously marked "important." What could possibly lie within? A curious mind wondered.  
All sorted, Sarp makes his way to the elevator, headed for the ground floor where Leyla... Yes, Leyla, awaits on the other end. 
... Low-key freaking out about what comes next? Here's some even bigger news for you: Leyla's place of work is also Sarp's brand new place of work! Oha? Oha, indeed!
Hey, you can catch your breath because the universe had other plans for their first meeting. Bigger plans.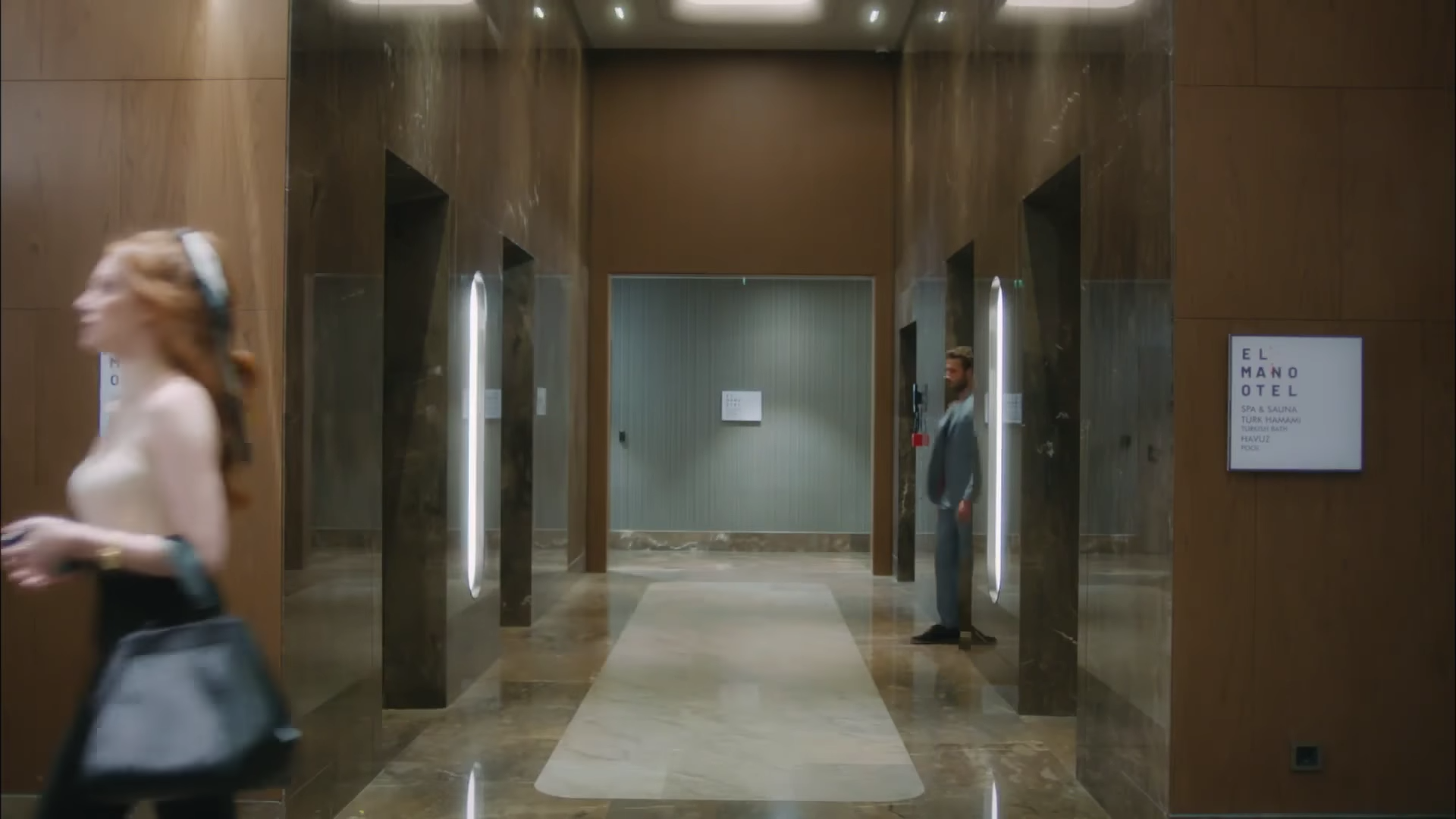 As they are the staple of any good rom-com, let's talk in-laws for a second. Aslıhan (Melisa's mother) and Perihan (Sarp's mother), both strong, independent females with minds of their own... What could possibly go wrong? Try EVERYTHING! 
Aslıhan went ahead and hired a wedding planner for the big wedding. 

Perihan went ahead and hired HER own wedding planner for the big wedding.
That sounds a little messy already but let's "messify" it even further: If you recall, Leyla, Sarp's ex, is the wedding planner Aslıhan hired. When Leyla and Sarp were still a thing, Perihan, his mother wasn't a big fan of hers. How, where, when will Perihan find out Leyla has been put in charge of her precious son's wedding? Tick Tock! Tick Tock!
Back on the topic of the universe's bigger plans for the Leyla and Sarp's reunion. After a long day's work, Leyla and her gal pal Seda are invited to an event happening in the same hotel where they work. Excited to meet up and chill with old friends, they make their way through the hallways, approaching a major surprise that awaits them on the other side of the door of the hall where the event is being held.
Surprise starts with the letter "S" and so does the name Sarp. Interrupted by the mention of her name from across the hall, Leyla glances over excitedly to wave hello to an old friend... make that "old friends" as Sarp Bey, was right there, IN THE FLESH. *GASPS*
Five years. Five years of no messages. Five years of no calls. Five years of hoping for a miracle. There he was, standing in awe, counting down the minutes till he would have to confront his past, face-to-face.
Luckily for him, a professional like Leyla was not about to make a scene in the midst of the many people that were present.
Instead, she made her way back out through the doors, received a bit of morale boost from her best friend Seda, and just as she was about to approach where Sarp and his fiancée convened, Sarp Bey intercepts, quickly grabbing her arm and walking them to a much quieter part of the hotel.
"What do you want," he confidently asks Leyla, as if the last 5 years had vanished from his memory, just like he did on their wedding day.
"I want an explanation," Leyla responded, still visibly shaken from unexpectedly having to confront her past. 
Then came the possibilities. The possibilities of what could have happened that glorious day. "Did they hold a gun to your head? Were you being threatened?" Leyla asked. Still pending a response from Sarp, she went on; "How could you leave me and walk away on our wedding day?"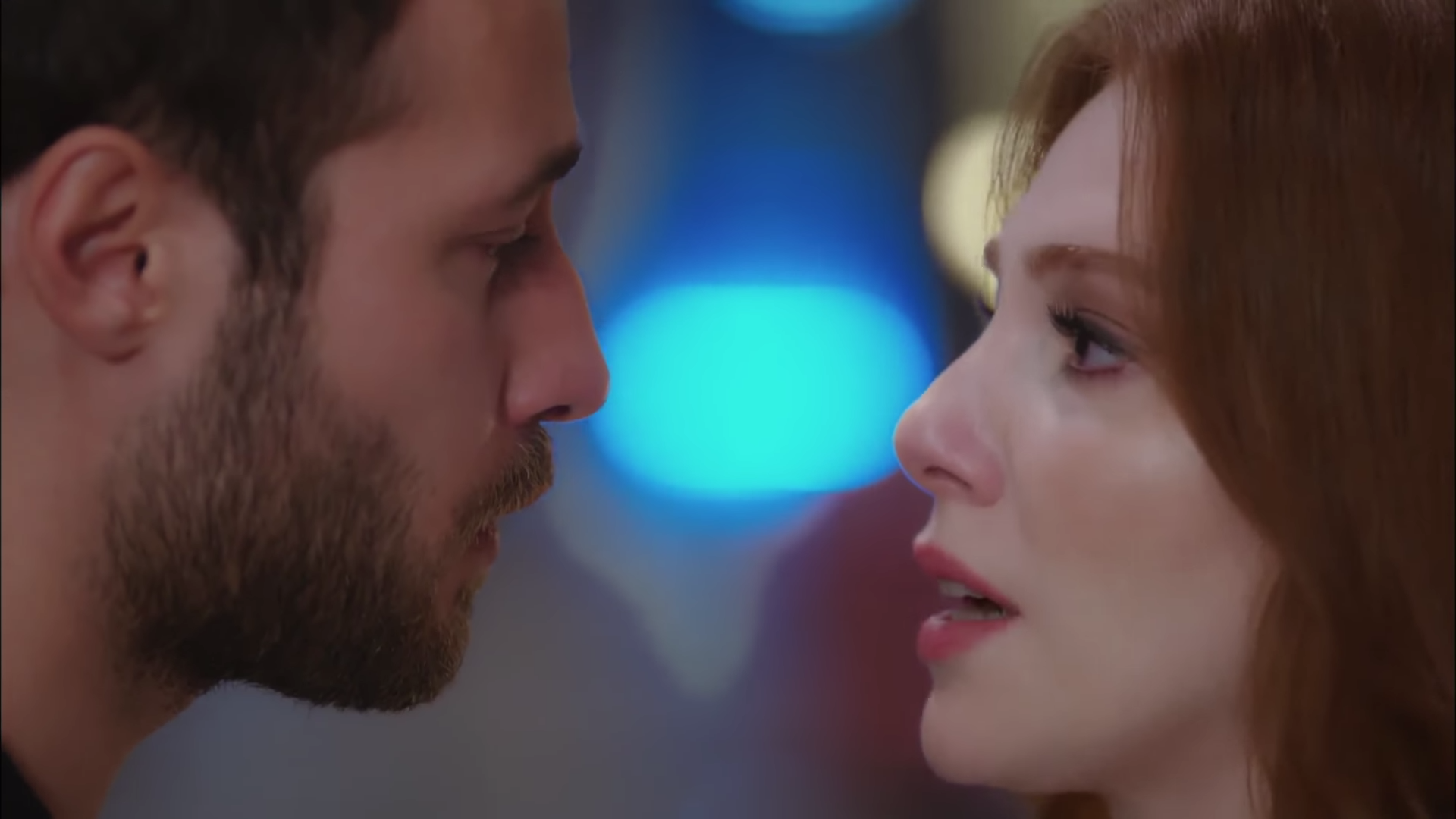 ...and just like that, Sarp proceeded to break her heart even further, giving her the silliest excuse of none of what happened mattering anymore. But it did matter. It mattered because all Leyla had to keep her going the last couple of years was hope and in an instant, Sarp had once again shattered all of it.
"You've been silent for many years. Say something," she gave him yet another chance to redeem himself self and once again, he fell short. "It's all in the past now," he uttered. 
"Shame on you. Shame on you," Leyla responded, as they parted ways. Unable to wrap her head around what had just happened, Leyla bursts out in tears.  
Revisiting the conversation later on with his brother, Sarp starts to manoeuvre his way through some valid reasons for abruptly leaving, one of which he pinned on losing his father to a car accident on the day of the wedding. Admittedly, that was a good reason to leave but without any explanation? Not even a one-word text message? Please.
At this point, you're probably thinking they will inevitability get back together but here's a fun little detail: Sarp seems genuinely in love with his new wifey-to-be. In fact, he mentioned to his brother that he would much rather Leyla keep hating him than him repeating history by doing what he did to Leyla to Melisa. How very... thoughtful?
Where do we go from here? The biggest reveal of the episode. Aslihan has organized a wedding-planning rendezvous, with appearances featuring her, her daughter Melisa, her son Arda, the lead wedding planner Leyla, and oh Sarp, aka Leyla's ex-fiancé and her daughter's current fiancé.
Having stayed up late last night, wallowing in her misery by way of a couple of cups of alcohol, Leyla is late for the meeting but luckily for her, she gets a few minutes to gather herself, before..,. well before the fiancé, Sarp, makes an appearance.
With Leyla all settled, Melisa makes her way through the doors of the meeting room, saying her hellos, and right behind her, a smiling Sarp, ready to get their wedding planning underway.
That's right, Sarp. Leyla, the woman you abandoned 5 years ago will be planning your *new* wedding. How about that?!
Our Take
For the first episode, the show is certainly off to a great start. This Fall TV slate is packed with a lot of action-filled dramas and while those are fantastic, sometimes all a person needs is a sweet, endearing melodrama, somewhat of a TV comfort food, that just makes them feel good.
Elçin Sangu is the reigning queen of rom-coms, and she proved herself once again İyi Günde Kötü Günde, delivering humor and heartbreak in an overall well-rounded performance. 
 

 

View this post on Instagram

 
Likewise, her fellow castmates carried their own weight, complementing each other's performances and making the show extraordinarily relatable.
It would be interesting to see the chaos that will inevitably follow Leyla having to constantly be in the presence of Sarp as her wedding planning duties will require. There is also the inevitable likelihood of Melisa discovering they were a thing back in the day. Will she respond in a quintessential dizi way or will she remain the cool, calm, and collected lady we got to meet this first episode? Only time will tell.
İyi Günde Kötü Günde is the Turkish drama for fans of the cliché and sometimes corny American rom-com movies, the likes of 'The Wedding Planner' and 'My Best Friend's Wedding.' The beauty of the series lies in its simplicity of its storytelling and the subtle humourous moments in play.
A brand new episode of İyi Günde Kötü Günde airs on September 19 on Star TV in Turkey!