Summary:
The episode begins with a flash-forward scene of Poyraz yelling at Haziran to leave while throwing out her clothes.   She tries to explain her reasons, but he refuses to listen. 
Flashback to two days earlier to the aftermath of the kiss between Poyraz and Haziran who continues to deny having any feelings for him.  As she attempts to leave, Poyraz promises that she will see a different Poyraz from now on.  Meanwhile, Biricik tries to convince Alper that she didn't mean to say that Haziran was responsible for stealing the bank information, but he doesn't believe her.  Biricik becomes nervous when Alper insists on telling Poyraz and as he tries to get away from her, they fall to the ground which causes him to miss Poyraz who leaves the hotel.
The following day, Haziran gets a big surprise when she finds a different Poyraz as he promised.  Instead of the brooding and quiet man, she finds a friendly and smiling man making small talk with some of the hotel residents, especially the women.  As Haziran watches Poyraz, she runs into Sena, Biricik's friend who is visiting the island and staying at their hotel.  While waiting for her room, she sees Poyraz and becomes interested in him asking Haziran if he's available which makes her jealous.  Meanwhile, Biricik wakes up to discover both she and Alper fell asleep outside of her hotel room after drinking all night as she was trying to convince him to stay quiet.  Unfortunately, when she goes back outside, she finds Alper is gone.  When she attempts to speak with him, he ignores her calls. 
Back at the hotel, Haziran watches as Poyraz and Sena chat.  She attempts to hear what they're saying but isn't successful.  She serves Sena her drink to take the opportunity to get close to them and finds Poyraz being social as he volunteers to show her the island.  Haziran becomes jealous and "accidentally" spills the drink on her in an attempt to ruin their plans.  It doesn't work.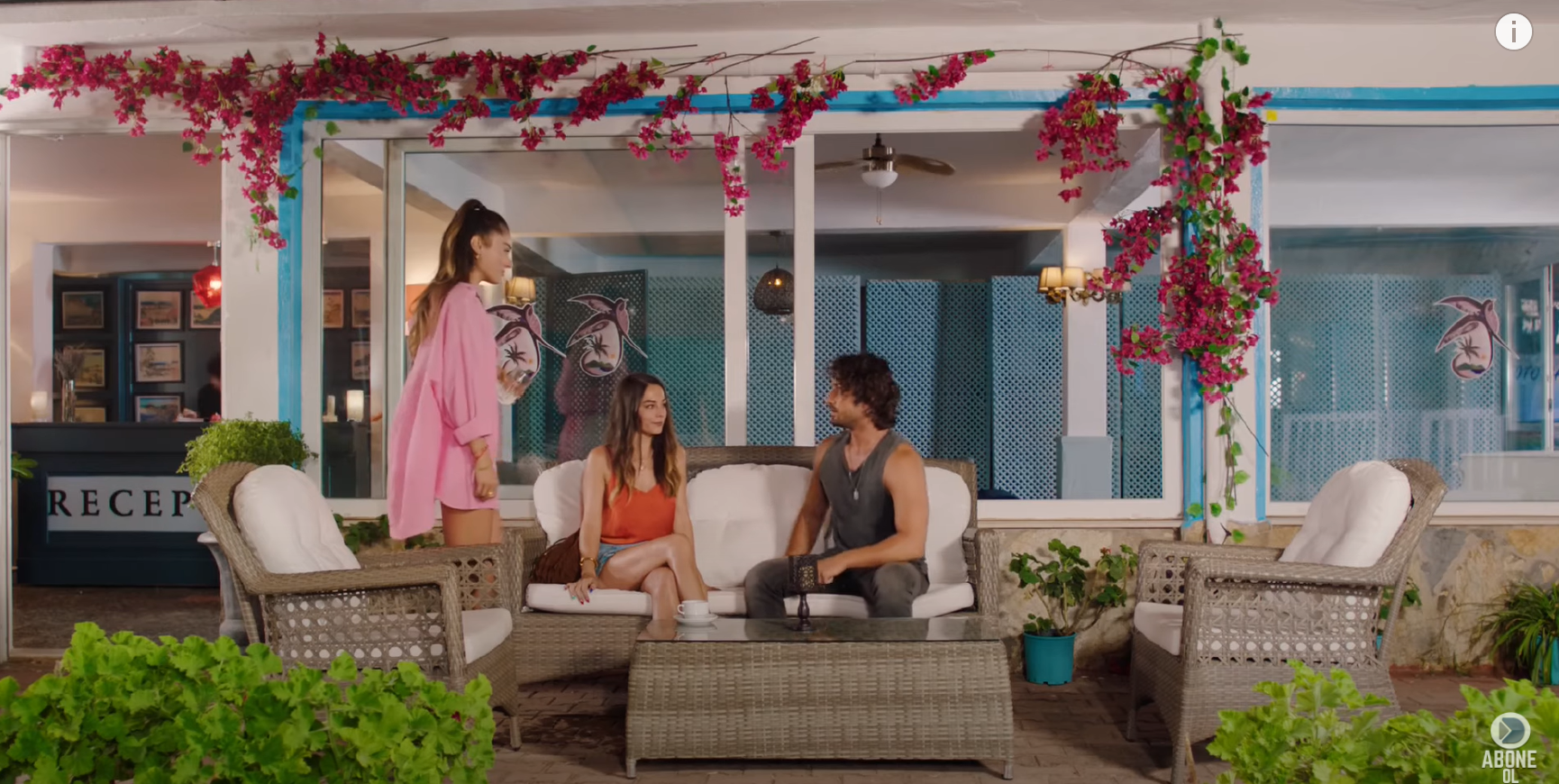 As Poyraz and Sena are about to leave together, Haziran invites herself with the excuse that she has to buy something in town.  After they drop her off at a store, they stroll around town and end up at Melisa's bakery.  Poyraz notices Haziran watching them from across the street, so he purposely takes a bite out of Sena's dessert to make her jealous.  Biricik finds Haziran and attempts to convince her to tell Poyraz her secret before anyone else does but Haziran refuses, saying it's not the right time.  Biricik still hasn't told her that she accidentally told Alper.  Knowing that she must do something, Biricik finds Hakan and informs him that Alper knows and asks him to intervene so that Alper doesn't tell Poyraz.  In the meantime, Alper calls Poyraz to ask him to meet him at his restaurant to talk.  While he waits, Hakan shows up and after Alper tells him about Haziran, he suggests that he stay quiet because Poyraz will be the one who will lose the most because of his financial situation and his partnership with Haziran.  When Poyraz arrives, Alper decides to not say anything to him, for now.  While the boys talk, Biricik pulls Haziran aside and confesses that she told Alper her secret.  Frantic, Haziran has a panic attack and while walking home, they run into Zeynep, Idil, and her father.  The girls have a confrontation after Idil tries to claim Haziran was crying because she finally realized that Poyraz doesn't want to be with her.  Annoyed, Haziran responds by asking her if Poyraz's grandmother has pushed her pawns to intervene for her.  Before the girls get into a heated argument, Idil's father intervenes to prevent a scene.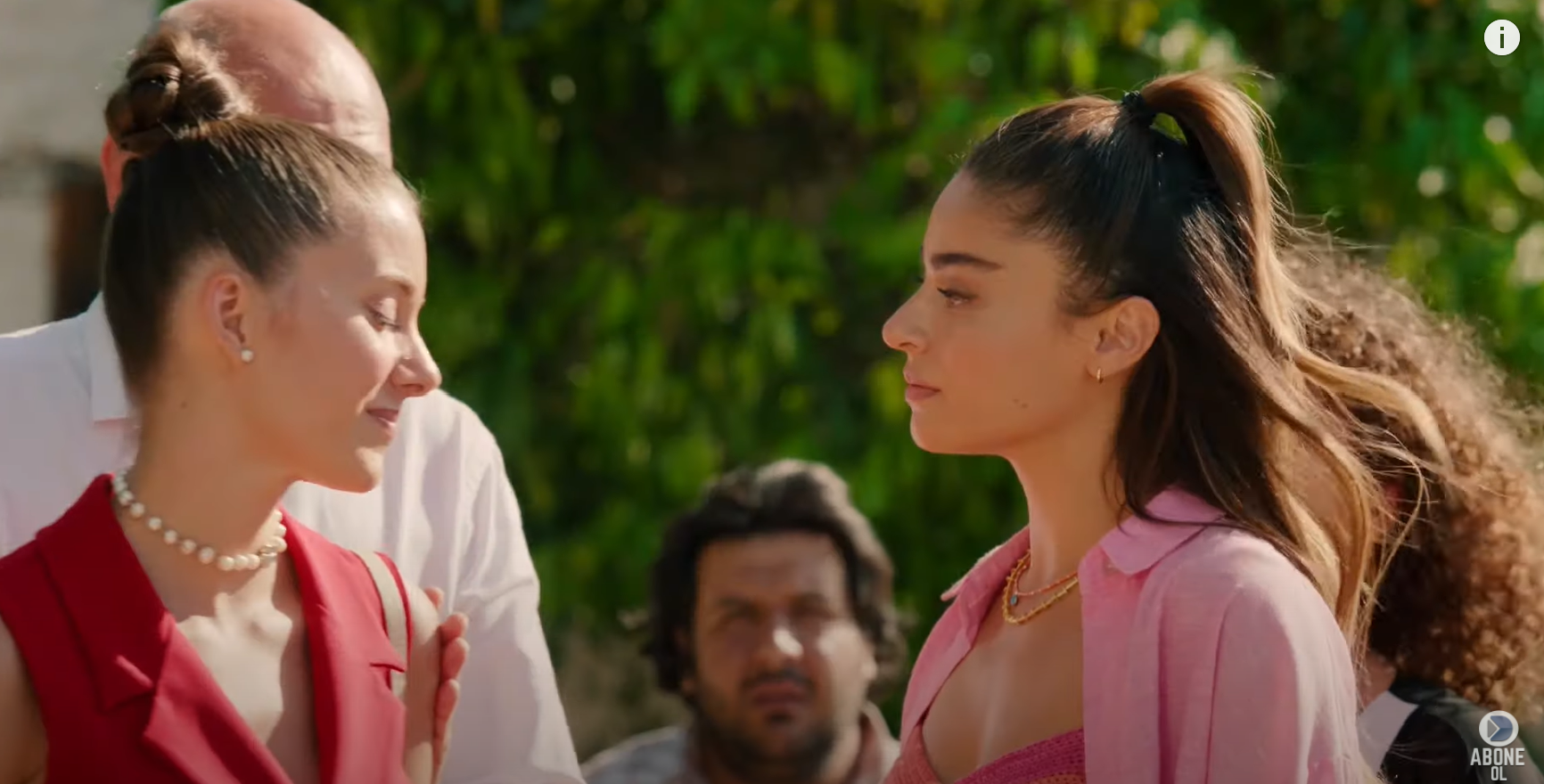 Haziran and Biricik leave to search for Poyraz and find him at the hotel with Melisa and discovers them researching Hakan and ultimately learn that he works for the company that is after his land.  He assumes he was the person who stole his bank information and storms off looking for him.  Haziran attempts to stop him, but he ignores her.  Meanwhile, Hakan finds out that Poyraz is looking for him after finding out who he works for and goes into hiding.  He attempts to force Haziran to help him get off the island, but she refuses telling him that she's going to tell Poyraz everything before someone else does.  Hakan warns her that Poyraz will be a thousand times more upset at her because of what she means to him.  Worried, Haziran attempts to see Poyraz at his home, but his grandmother intervenes and refuses to let her in her house.  She warns Haziran to stay away from Poyraz so he doesn't suffer anymore and orders her to leave. 
The following day, Haziran tries to talk to Poyraz but discovers that he has plans with Sena on his boat.  She attempts to stop him from leaving, when he refuses she jumps on the boat and joins them.  Once they're out on the water, Haziran begins to tell him her story but gets interrupted by Sena.  Frustrated, Haziran takes Sena aside to tell her she's really in love with Poyraz so for her to leave him alone.  When Haziran finally has Poyraz alone, she gets a frantic call from Gorkem who tells her to come quickly to prevent a fight between Zeynep and Selma.
Back on the island, the feud between Zeynep and Selma is revealed.  It begins with Idil asking Selma to sew her a dress that Zeynep designed for her.  She becomes angry when Idil tells her that Zeynep said tailors just know how to sew because they don't know how to design.  Selma rushes to find Zeynep and begins to hit her when she finds her.  In the middle of the street and in front of a crowd, they begin to argue until Selma screams at Zeynep that she isn't a real designer because she stole her designs and used them in the competition years ago that helped her win.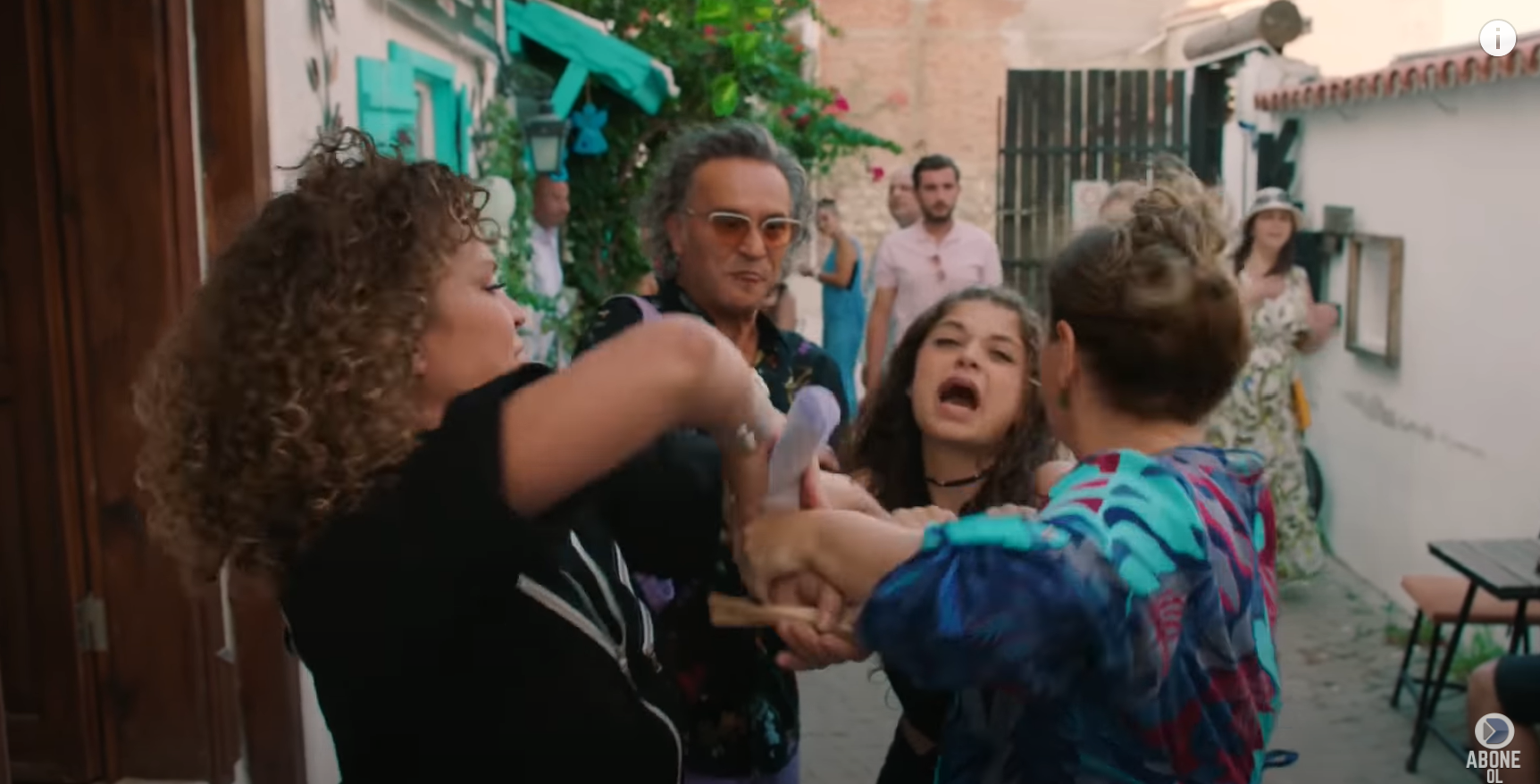 When Haziran arrives, Selma explains that she has kept quiet for years but couldn't take Zeynep's teasing anymore.  She apologizes on behalf of her mother who she knows will never do it.  Devastated, Haziran tells her mom that she never thought she could ever feel so deceived by her and walks away.   
Meanwhile, Hakan makes a last-ditch effort and calls Idil to make a deal with her.  If she helps him get off the island, he will reveal Haziran's secret that she can use to destroy her.  Idil agrees.  Once she secures a boat, she notifies Hakan who arrives immediately.  Right before Hakan is about to leave, Poyraz arrives and drags him off the boat and begins to beat him.  Idil takes the opportunity to tell him Hakan had an accomplice, Haziran.  When Poyraz doesn't believe her, Haziran arrives and confirms her involvement.  She tells him that she was told Poyraz was a mean person who no one liked in order to trick her into doing what she did.  Poyraz is completely devastated as he walks away.
Later, Haziran searches the entire island looking for Poyraz and ultimately finds him in her apartment throwing out her belongings.  When she attempts to explain, he refuses to listen to her and demands that she get off the island first thing in the morning. 
The next day, Haziran is determined to make Poyraz listen to her, so she locks herself and Poyraz in a room at the hotel and pleads with him to give her a chance to explain what happened.  She tells him that as soon as she discovered she was deceived, she returned to the island to fix her mistake by helping him.  Poyraz doesn't accept her explanation and accuses her of lying to him.  Haziran explains that she was blinded by her ambition but changed since living on the island.  Poyraz accuses her of being worse than Hakan and storms off to tell Nehir to buy Haziran a ticket on the first ferry for tomorrow morning.  Haziran follows Poyraz and tells Nehir to cancel the ticket.  She confronts Poyraz and tells him she's not leaving.  Poyraz says her mission is done and should leave to collect her prize, so Haziran reminds him that she still owns a part of the hotel and refuses to sell her part.  She tells him she's a fighter who doesn't give up without a fight.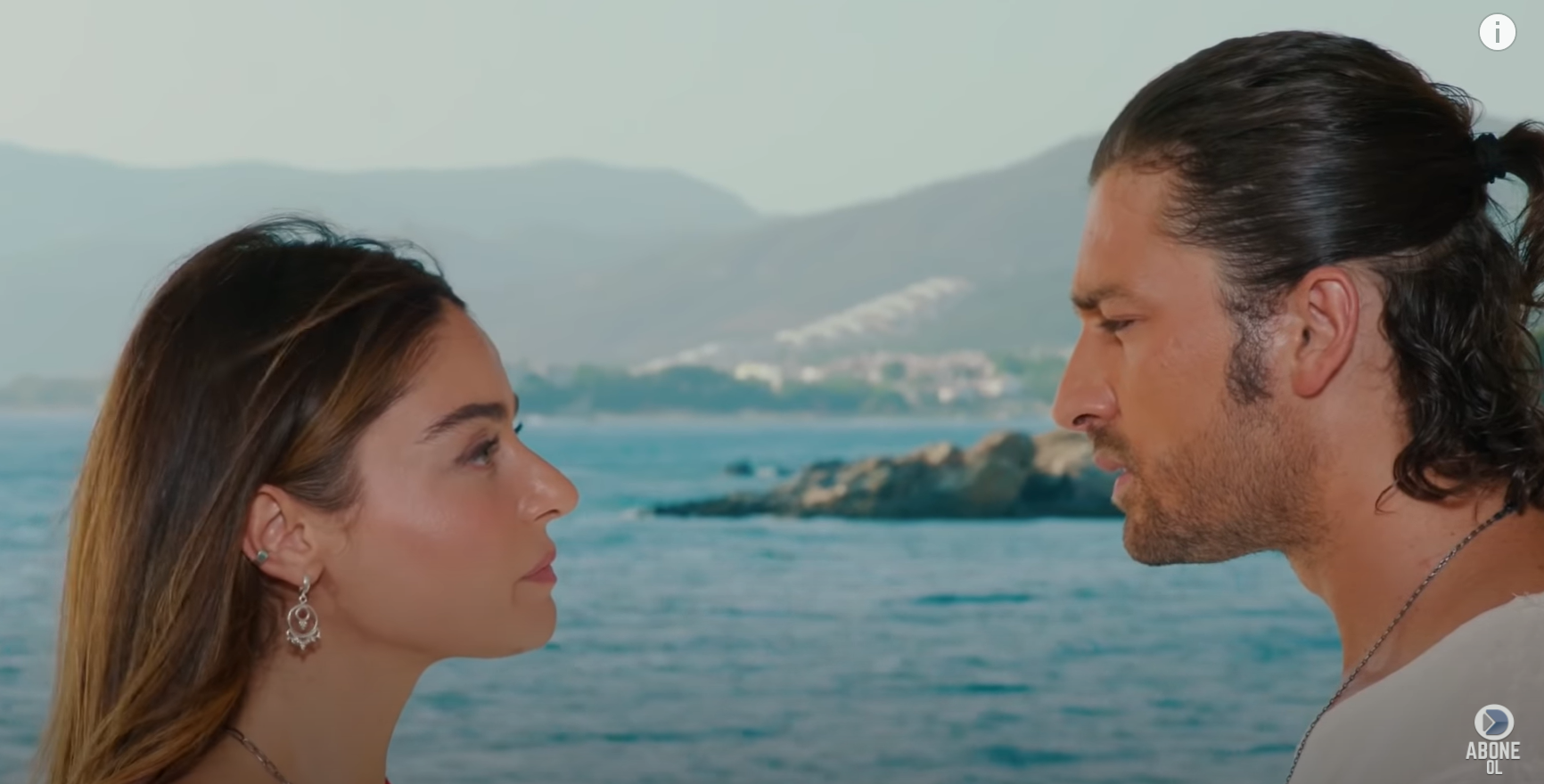 What I Loved:
I loved watching a jealous Haziran and nice Poyraz.  She was so obvious as she spied on Poyraz and Sena.  Her spying scenes were really silly and funny especially when she kept getting in between them to avoid them being alone.  I like "flirty Poyraz".  As he promised, he was definitely a different person.  I loved watching him smile and be sociable with the guests as he tried to make Haziran jealous.    
I also loved that we got to see some interaction between Biricik and Alper.  I loved watching them defend and support their friends which led to a heated argument that resulted in a kiss.  I think Alper forgot about his promise to Melisa about not having a girlfriend unless she approved.  Oh well! 
What I Disliked:
I disliked Poyraz's grandmother.  She has been very rude to Haziran even though she knows why she did what she did.  She claims to be protecting Poyraz, but I think she just doesn't want anyone to get close to him.  In my opinion, I think she was the reason Poyraz's mother left.  I hope I'm wrong because Poyraz will face another major blow if it's true.   
My Thoughts:
I'm happy the secret is out!  I anticipated Poyraz's angry reaction, but I did not think he would take it to the next level when he threw out Haziran's clothes on the street.  That was uncalled for and harsh.  Poyraz's attitude is justified but his actions are not.  I understand that he's hurt especially after he opened his heart to her, but he should have just told Haziran to leave without taking drastic measures. 
I think Haziran deciding to stay was brave especially knowing that a lot of people are going to hate her.  I couldn't handle running into the same people every day on a small island and seeing their judgmental faces.  I hope she's prepared to deal with it daily if she truly does stay.    
Although the majority of this episode was dramatic with intense scenes, it had some comedic relief that was perfect and not over the top silly.  I especially loved the scene where Poyraz and Haziran are arguing in the hotel room while the gossipers eavesdrop outside.  Although they're worried for Haziran, they were also interested in listening in on their conversation.  It was hilarious when Poyraz stormed out of the room making the gossipers scramble to try to act like they weren't listening to them.